Difficulty:
Easy
Assumed knowledge:
This tutorial assumes you know your way around your Chictopia account and how to use an image hosting service (such as Photobucket).
This tutorial is for
cocorosa
and any other Chictopians who would like to know how to put images and links in their ChicBlog sidebar.
First you will need a image hosting account to upload the image you wish to use. I'd recommend signing up to either
flickr
or
photobucket
if you haven't already. For this tutorial we'll use photobucket as an example.

Go to your 'My Chictopia' main page and click on 'update my profile' (located under your user icon). Scroll down to the 'tell people about your style' box. The content you put in this box will be displayed in your sidebar on your ChicBlog page. Type the following HTML code into the box (without the star):
<*img src=" ">
Go to your photobucket main page and use the uploader to upload the image/s you want to use from your computer. Then locate the image on your Photobucket page - under it will be a text box titled 'Direct link'. Copy the URL code in that box and go to your Chictopia page.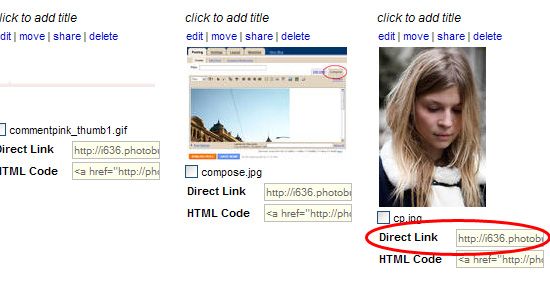 Paste the code between the two quotation marks in the 'tell people about your style' box. You have now created an image.

If you would like the image to link to another page, put the following HTML code around the existing code:
<*a href="">
<*img src="http://i636.photobucket.com/albums/uu86/leblogdesushi/april09/cp.jpg">
<*/a>
Between the two quotation marks paste the full web address of your destination link, eg. http://www.google.com. Don't forget to remove all the stars. You have now created a link!

You can add more images by copying the code you just created and put text above and below it. If you want to put more than one space between images or text use the following code (remove the star):
<*br>
Scroll down to the bottom of the page and click the save button. When you view your ChicBlog page the image should show up in the sidebar.