Chloe Saskia square tote
Image courtesy of theoutnet.com
I'm amazed at how long it's been since I last purchased a new bag. My trusty YSL satchels have been my go-to bags for nearly a year now but I miss having a big, slouchy shoulder bag to throw everything into. My dream bag would be the Chloe Saskia or a Miu Miu bow bag but if I have to be realistic a similar shape in a nice soft leather will do.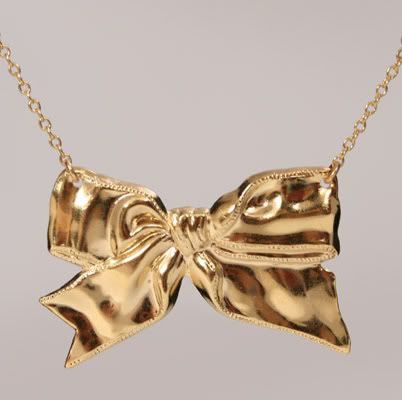 Kiskastyle gold plated bow necklace
Image courtesy of etsy.com
I have been eyeing this little pretty thing for a month or so, waiting for the exchange rate to go up (which is has been, AUD 0.78c to the US dollar today).
No doubt it it will very soon be on the recent purchases list.
H&M lace up oxford wedge in brown
Image courtesy of lisaplace.devote.se

And last but not least, THESE beautiful Chloe-esque oxford wedges that I have been pathetically pining and scouring the internet for since I first laid eyes on them. If a pair (in size 38/39) dropped into my lap right now I would be the happiest sushi alive. But, being realistic again, if any lovely bloggers know where these are still available or of someone who is selling theirs please let me know!