Apologies for going missing for a week! After moving house last week I came down with an awful cold and have been lying in bed for the past few days drowning my sorrows in Pokemon. So, now that I'm back, welcome to the new Le Blog de Sushi. I want to share a few features of the new layout so you can make the most of it.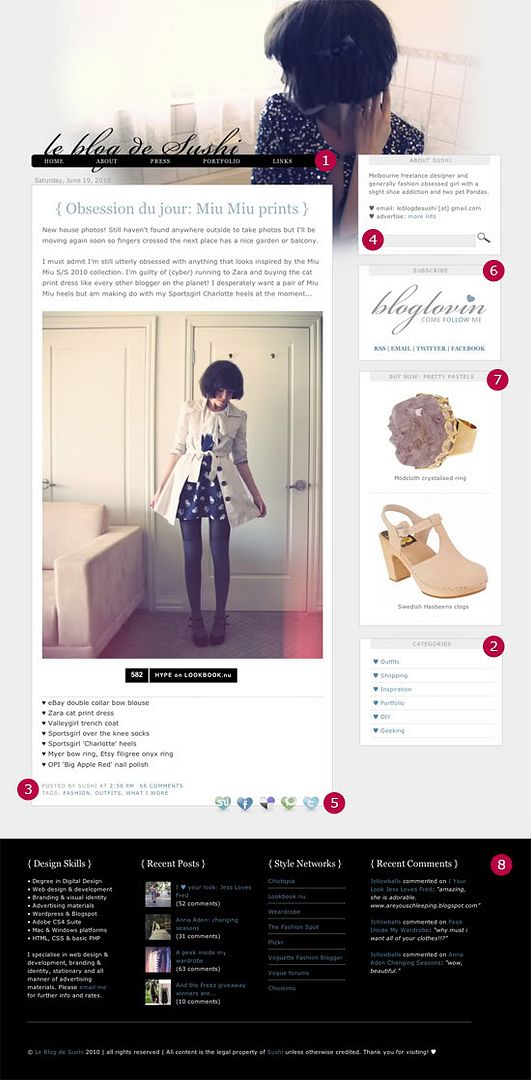 1. The old categories navigation bar that used to be located at the top has now been replaced by a more traditional navigation which includes, Home, About, Press, Portfolio and Links. Blogrolls have now been moved to the Links page. I am starting my Fashion Blogroll anew so if you would like to exchange links please comment on this post or email me.
2. The categories navigation is still available in the sidebar and is most useful when you want to find more posts on a certain subject.
3. You can also find related posts by clicking the tags at the end of a post.
4. A search bar is available at the top of the sidebar if you want to search for certain brands/designers/tutorials, etc.
5. The pastel heart-shaped buttons at the end of each post make it quick and easy to share a post via Stumble Upon, Facebook, Delicious, Technorati and Twitter. Simply click and follow the prompts!
6. To follow the Le Blog de Sushi, choose one of options under the Subscribe section in the sidebar or the Like on Facebook/Follow with Google boxes. I think many are already familiar with Bloglovin', but for those who aren't yet here's a quick video about how it works. Bloglovin' is an easy way to keep track of the updates of your favorite blogs and a great way to discover new blogs too.
Click here
to follow Le Blog de Sushi on Bloglovin!
7. I've replaced conventional sponsor banner ads with product spots in the sidebar. If you see something you like, just click on it to be taken to the product page on the sponsor's site. If you're interested in sponsoring Le Blog de Sushi in some way, please read through the About page and contact me.
8. In the footer the most recent comments and recent posts can be seen, as well as links to style networks that I am a member of. I am still freelancing as a graphic/web designer so email me for further info and rates.
Also, as I've purchased a domain for my blog, the new address will soon show up as leblogdesushi.com. The old blogspot address will automatically forward you on to the new address so there's no need to change links in your blogroll, etc. Please let me know if you have any issues using the new site ♥