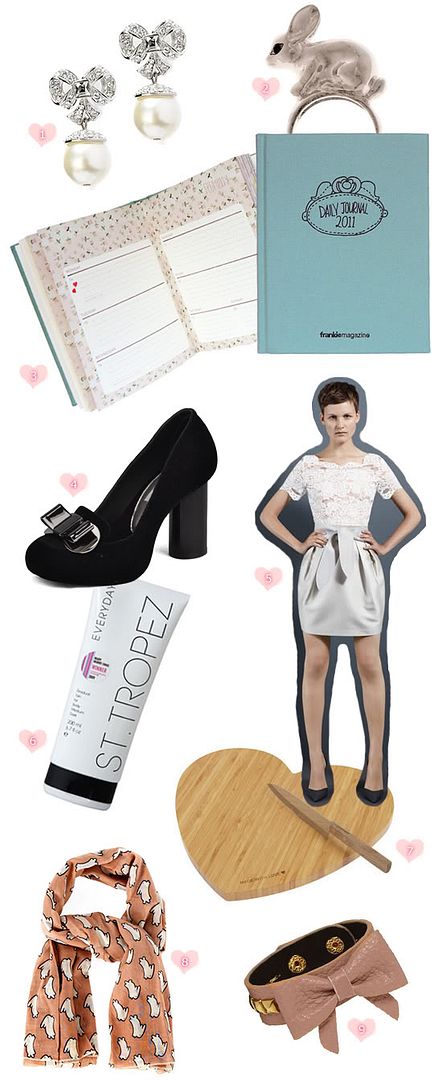 1. These sweet little Buckingham Bow earrings feature two of my favourite things: bows and pearls. I came across them on an online store called ShopNBC, which carries a huge range of
gold jewelry
, clothing, accessories, etc at great discounted prices. For example, these earrings RRP for $124.00 but are only $39.00 on the site!
2. I'm still pining after this lovely bunny ring from Modcloth. It's so hard to decide between the silver and the gold! Maybe Father Christmas will bring me one of each since I've been extra good this year? And if not, it's always available to purchase here.
3. As soon as I saw this diary by Frankie Magazine I knew I'd found my planner for 2011. I love how it has a tough hard cover and each month features different illustrations (by the very talented
Amy Borrell
) so you won't get bored looking at the same thing all year long. These diaries are selling out super fast and are $24.95.
4. So, plastic shoes. I admit it's taken me a while to get used to the idea of these. But I thought, if I'm happy to wear pleather, fake suede and canvas, why not wear plastic shoes as well? Besides the adorable design and cute bow on this pair, the thing I like most about Melissa shoes is that they're made from 100% eco friendly materials, use no animal products and are recyclable!

5. I've read a lot of other bloggers reviews on the Stella McCartney for Target range, and not a lot of them were very positive. However, I went instore to try a few pieces on myself a week or so ago and I was pleasantly surprised. I tried on the lace tee and pencil skirt (pictured), and lace bustier, and they all fitted very well. The prices are a bit over the top though so I wouldn't want to pay full price (hello, Boxing Day sales!).
6. I have extremely fair skin and although I usually embrace the paleness, in summer I prefer to tone down the bright whiteness with some subtle gradual tanner. I've tried a few and haven't been impressed with them as they leave me with an orangey glow, streaks or a rash. I've read a lot of good reviews on the St Tropez everyday gradual tanner though (and the brand in general) so I want to try that one next.
7. Last week I just found out that our application was accepted for a two bedroom apartment in St Kilda East! I'm thrilled about not having to share any more but now we have to buy all kinds of household furniture and items for the new house. For the kitchen, what would be better than a heart-shaped cutting board? Available
here
at Modcloth.
8. I guess I seem to be a bit obsessed with bunnies? I think it's not that I'm a huge bunny fanatic, but that shops keep coming up with the cutest bunny prints and accessories. This bunny print scarf is by Zara and also comes in blue and red. I heard that Zara will be opening in Bourke St Mall very soon - can't wait!
9. This studded bow bracelet is another lemming from Modcloth. I really like how it mixes studs and a bow in the design, plus it's small enough to fit in a Christmas Stocking (hint, hint, Father Christmas!).