I'm sure some of you are probably over the whole scalloped shorts trend by now, but not I! I've been searching high and low for the perfect inspired version of the darling Chloe scalloped shorts from the S/S 2009 collection since the first time I laid eyes on them.
I've seen quite a few interpretations of the Chloe shorts, including a camel pair by
Queen's Wardrobe
, a lemon yellow pair by
Lucca Couture
, and a highly elusive (and quite expensive) pair by Bracewell. But none had the same charm as they were either only scalloped at the bottom or were missing the all-important, waist-cinching sash. Then a few days ago I heard that Forever New were selling a look-alike style in both cream and pale pink for only $50.00.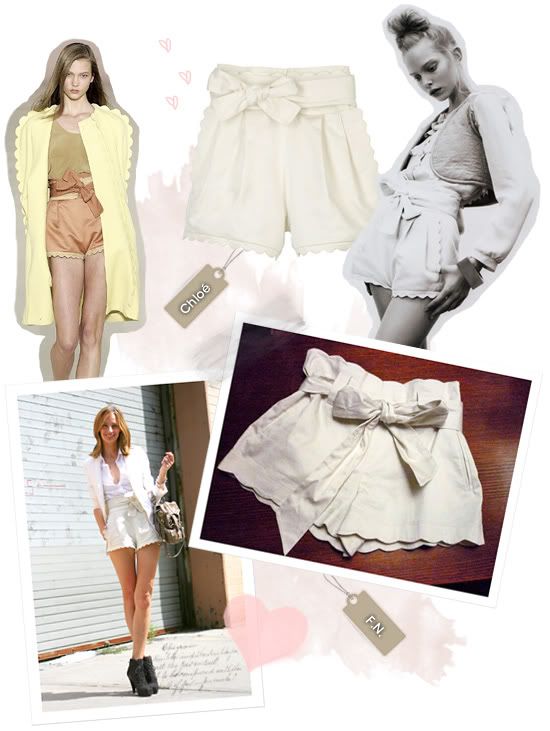 Images courtesy of net-a-porter.com, style.com, ebay.com.au & unknown sources.
Of course I went instore quick smart and found the cream ones still in stock. I originally tried on the size I usually am and was not convinced; they didn't sit on the waist, which gave them a drab up and down shape, and the back rode up unflatteringly. So I then tried on another pair, two sizes larger, and they were perfect! The large waist could be cinched in by the belt, and the extra roomy-ness meant they could be worn on the waist and produce a nice hourglass shape.
Technically they are a Christmas present though so they'll be wrapped up under the Christmas tree until later this month... So! To conclude my unusually long ramblings, the moral of the story is: good things come to those that wait. And the tip of the day: don't be scared to try other clothing sizes besides the one you usually are.