As the nights get colder and colder, a new obsession with cosy, beautiful sleepwear and loungewear has taken over. In particular, I've been stalking the
Peter Alexander
online store as well as the store much too temptingly close to my work.
If I could, I would probably buy the entire store as I love their current 1950's inspired collection (and the amazing 50's music they play instore as well!). But since that's not an option, I've so far settled on the Silk & Lace Mini shorts, Cable Knit Bed socks, and two of the Classic Long Sleeve Button tops (with the Penny Dog lamp next on the list).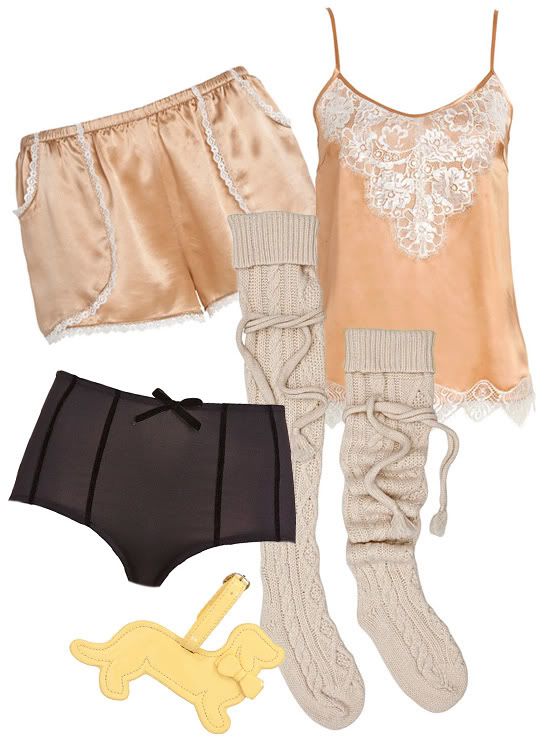 silk & lace mini short $69.90 and cami $69.90, cable knit bed socks $59.90, high-waisted brief $29.90, penny dog luggage tag $16.50
wrap me up cable gown $149.90, floral knit bloomers $39.90, vintage cami and brief set $59.90
wonderland pant $49.90, pom pom beanie $24.90, knitted nanna hot pants $59.00, penny dog lamp $130.00
Also, in reply to a comment I received on my last post (and just in general), the reason I havent been posting as often is because I've been working overtime doing freelancing and working at Forever New. While I love my work, I do miss blogging and it's frustrating having so many ideas and things I want to blog about but not have enough time to share them with you. Although you may not see as much of me for a while, know that I really appreciate your comments and hope you'll still read my posts when I do post!