I've always wanted longer, thicker lashes (and who doesn't?) but have never been able to commit to the fiddly task of applying false lashes on a daily basis. Enter Eylure semi-permanent lash extension: individual false lashes promising to give you longer, fuller lashes for up to four weeks. Of course I had to try them! This is the package they come in: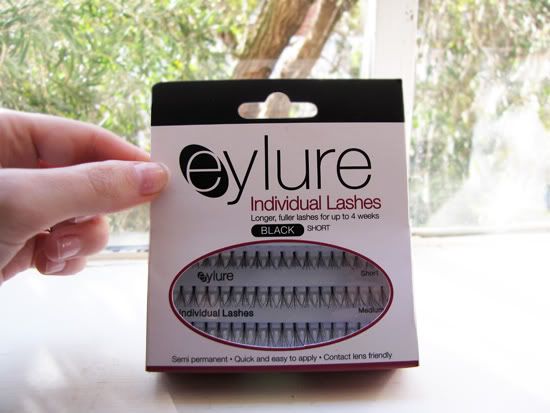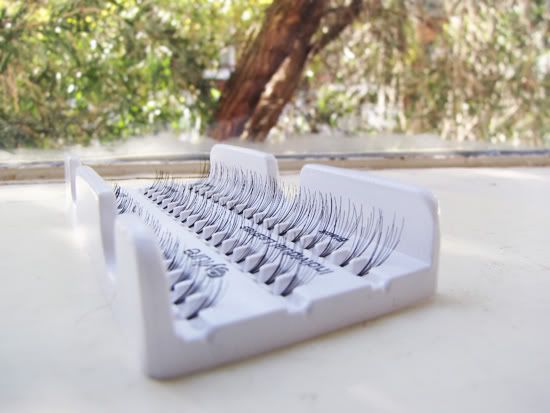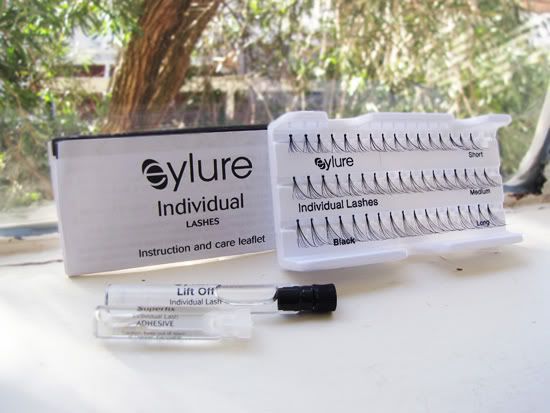 The individual lashes are stuck to a little plastic tray, which makes them easy to access and keep tidy. They are available in packets of short, medium and long lashes or packets of all one length. Each packet costs around AUD $15.00 and contains a small tube of 'Lift Off' remover, an even smaller tube of clear adhesive, instructions and 50 individual lashes.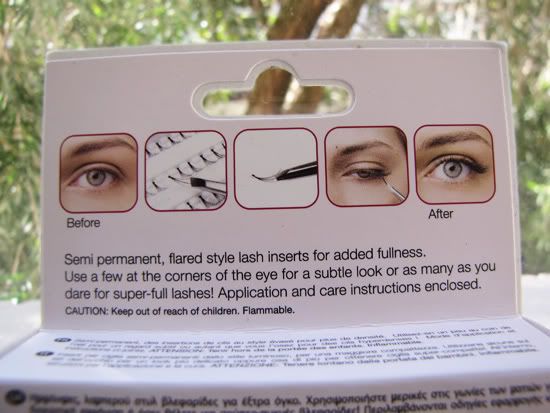 The leaflet gives step-by-step instructions, or you can just follow the pictures on the back of the box. The instructions are relatively easy to follow, though I found it took me a few tries to get used to the application technique.
Before applying make sure you remove all traces of eye makeup (otherwise the lash adhesive will not work as well). Using tweezers pick up a lash from the tray, cover the tip in adhesive, then apply to your lashes as close to the roots as possible. The instructions suggest blotting some adhesive on aluminium foil, but I found that the adhesive dried too quickly so I preferred to use the applicator tip to apply the adhesive to the individual lashes.
You can start applying where ever you like but I personally found it easiest starting from the middle and working my way out, before coming back and doing the inner lashes. The first time I applied the lashes, it took me approximately 1.5 hours and I used almost all short length lashes with just two medium lashes on the outer edge of each eye. Here's what they looked like after I had finished: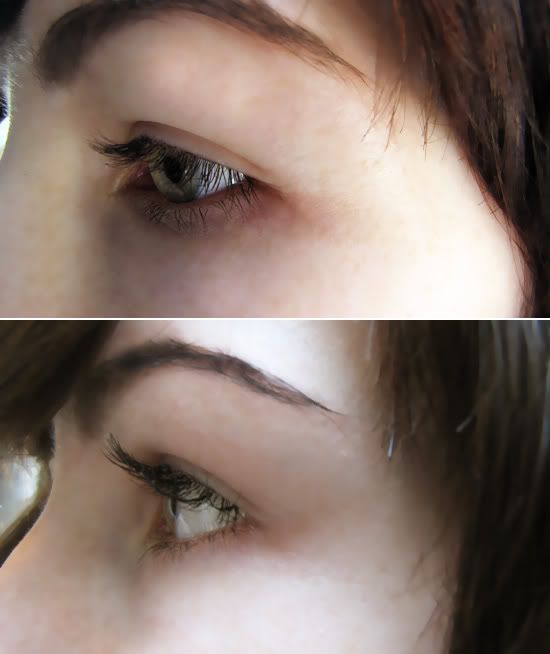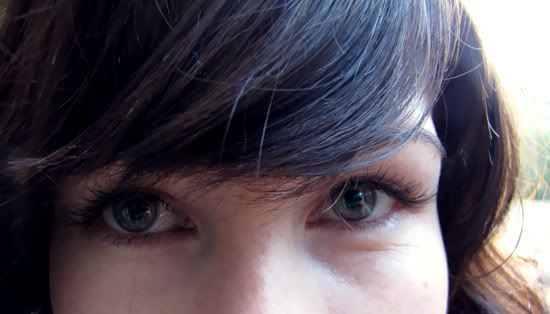 I was really impressed with the way my lashes looked after I had finished applying them. They still looked quite natural but much longer and more noticeable. As for the longevity of these lashes, I've been wearing them for about four weeks now and I've found that every few days one or two either become loose or fall off (particularly the outer corner ones as I'm a side sleeper).
Whenever I lost a lash, I found it very easy and quick to just reapply another lash in it's place. So although they did not last for four weeks without regular maintenance as the packet suggested, the upkeep was quite minimal and I kept them on for about six weeks all together.
♥ Very affordable compared to professional lash extensions
♥ Easy to maintain
♥ Allows you to build a natural or dramatic look
- First application can be fiddly and time consuming
- Will only last four weeks with regular maintenance
- 'Lift Off' remover may sting/irritate sensitive skin
If you're interested in trying Eylure lash extension kits, they RRP for around AUD $15.00 and can be purchased at
Priceline
and various online including
Amazon
,
House of Fraser
and
Feel Unique
(which offers free worldwide delivery!).