It's nice to be back! I've been banished from the internet this past week due to my phone line being down and no internet connection (thank you TPG and Telstra customer service for being so useless!). To everyone who's awaiting replies to emails and such, I've nearly gotten through them all so you should hear from me soon if you haven't already.
Of course the week I have no internet happens to be the week one of my favourite online stores hold a huge 70% off sale! Although I've missed a lot of good stuff as the
Modcloth sale
started several days ago, there's still quite a few cute things I'd love to get, some discounted as low as $1.99 :D
Autumn/Winter wishlist
♥
Got It Going Pom headband
$27.99
$9.99
|
buy here
♥
Bow-tique Beauty hair clips
$7.99
$1.99
|
buy here
♥
Carefree As Can Be dress
$49.99
$14.99
| sold out
♥
Valpolicella knitted bag
$114.99
$34.99
|
buy here
♥
Ra Ra romper
$89.99
$62.99
|
buy here
♥
What I Like About Shoe boot
$279.99
$83.99
|
buy here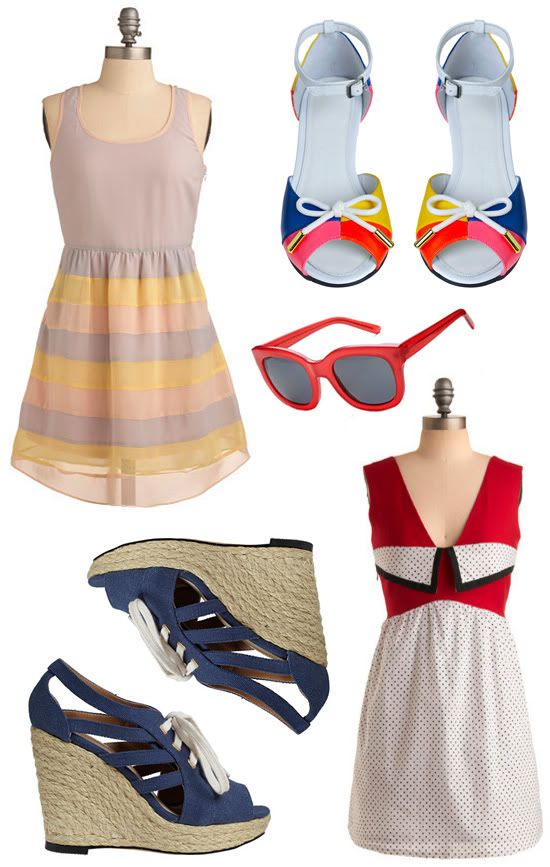 Spring/Summer wishlist
♥
Pastelling Secrets dress
$94.99
$28.99
|
buy here
♥
The Color Wheel Deal wedge
$134.99
$40.99
|
buy here
♥
Grand Finale sunglasses
$11.99
$3.99
|
buy here
♥
Neighborhood wedge
$89.99
$26.99
|
buy here
♥
Right On Summertime dress
$114.99
$34.99
|
buy here
P.S. Due to my dissapearance from the blogging world for the past week, Atelier Mayer and I have decided to extend the giveaway until Tuesday 4th October. To win a £200 voucher to spend on anything you like at ateliermayer.com, just
click here
!