I'm going away for two weeks as of tomorrow (better start packing!) and before I go I'm very excited to announce the winners of the Christmas giveaway! The winners are:
♥
Forever New heart basket bag:
The Lust Laboratory
♥
Flaunt silk pleated dress:
Daria P.
♥
Club Couture signature tank top & $50.00 voucher:
Harakun Bedivere
♥
Ashbury Skies $100.00 gift voucher:
Tuolomee
♥
Romwe $80.00 gift voucher:
Just Like a True Star
♥
Sunglasses Shop £50.00 gift voucher:
Nichelle


Congratulations to all six of you!
I've already emailed you with details on how to claim your prizes. Thank you to everyone who entered the giveaway and helped spread the word by tweeting.

I've been organised enough to schedule some blog posts to go live while I'm away. Also, I'm introducing a new feature to my blog this year, which is my very own blog shop! You can easily access it by clicking on the 'Shop my closet' link in the navigation bar.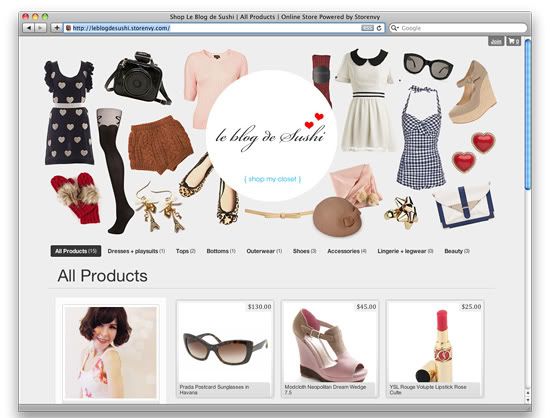 Of course I ship worldwide and accept PayPal and Australian Bank Deposit as payment methods.
There are about fifteen things listed at the moment (clothes, shoes, accessories, beauty products, etc) and I'll be adding more when I get back. My internet access will be quite limited for the next two weeks so please be patient if you're waiting on a reply to an email or message.

I'm giving my blog followers

15% off

everything in my blog shop until the end of January just for being a Facebook fan! Just like my page and click on the 'Shop my closet' link in the Facebook sidebar to access the discount code. Well that's all for now so au revoir and see you in two weeks
♥