A few months ago I participated in a Clearasil campaign where I blogged about
a day in my life
and tested out the Clearasil Daily Clear Vitamins & Extracts Scrub and Clearasil Daily Clear Vitamins & Extracts Wash. The last part of the campaign, an ebook featuring tips on how to feel confident and look good, has now also been completed! The
Clearasil Look Good Feel Good ebook
features tips from myself and fourteen other Australian bloggers on how to stay positive and confident throughout the day no matter what life throws at you!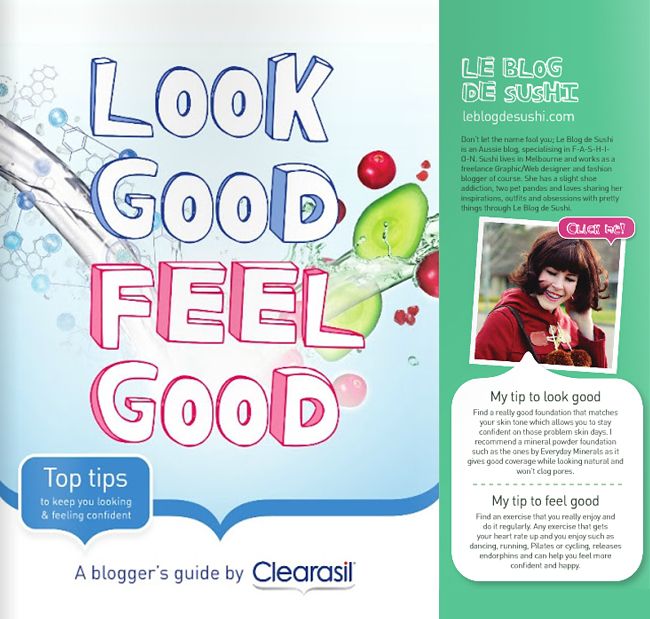 Tip #1
My tip to looking good is to find a great foundation that matches your skin tone, allowing you to stay confident on problem skin days. I recommend a mineral powder foundation such as Everyday Minerals as it gives good coverage while looking natural and won't clog pores.
Tip #2
My tip to feeling good is to find an exercise you really enjoy and do it regularly. Any exercise that gets your heart rate up and you enjoy such as dancing, running, Pilates or cycling, releases endorphins and can help you feel more happy and confident.
For more tips from more lovely Australian bloggers such as
Fashion Hayley
,
Jess Loves Fred
and
Violet LeBeaux
, head over and read the rest of the
Clearasil Look Good Feel Good ebook
.
If you're curious about how the Clearasil Daily Clear Vitamins & Extracts range could help your skin, here's a quick summary: The Vitamins & Extracts range is milder than other Clearasil lines and contains fruit extracts known for their skin conditioning properties. The use of nourishing ingredients such as vitamin E, avocado and pomegranate extract mean that the products are suitable to use as part of a daily regime. The lower percentage of salycilic acid is gentle enough to keep skin from feeling dry while strong enough to help keep it blemish-free. I've also just found out that the Daily Wash can double as a mask, which I'll be trying for myself very soon!